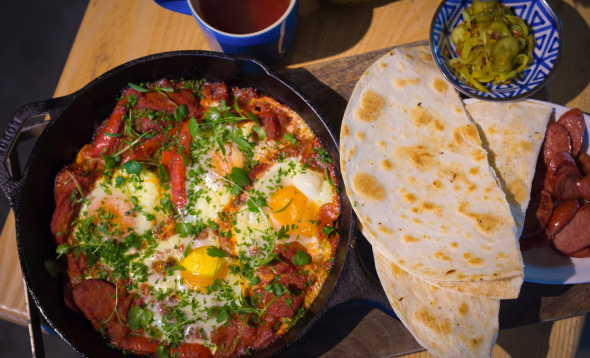 Harrington's Smoked Chorizo and Spiced Tomato Eggs with Flat Bread
If you love hot and spicy dishes, you're in for a treat. This one has got a real kick to it, and like all the great recipes it's so simple to put together. This is a wonderful comforting meal on a cold night but, let's face it, if you love spice, it's a dish for all seasons. It's sure to become a hot favourite.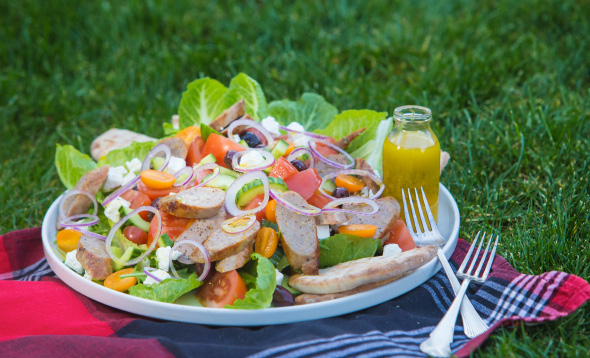 Harrington's Greek Sausage and Greek Salad with Orange and Oregano Dressing, and Toasted Pita bread
Here's a delicious dish that's perfect for the warmer weather. Enjoy this delectable twist on the classic Greek salad by adding Harrington's authentic New Zealand-crafted Greek Sausages. The citrus zing of our sausages is perfect for adding to a fresh salad. Just bring on toasted pita bread and wine, and you could be by the Med.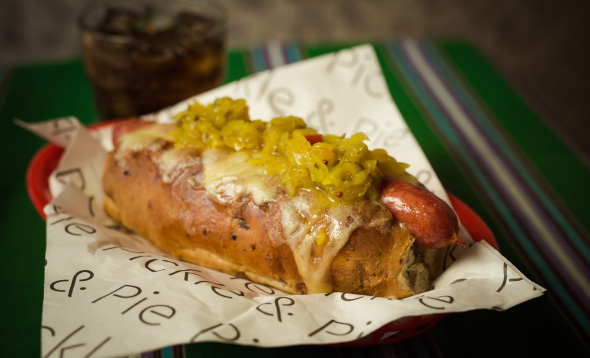 Harrington's Beer & Cheese Kransky Dog with Swiss Cheese and Mustard
This recipe is absolutely irresistible. It's so incredibly simple to do, pretty well impossible to make a mistake and the result is, quite possibly, the best hot dog you'll ever taste. That's thanks to the combination of top-quality New Zealand-raised pork blended with beer, Swiss cheese and mustard. It's why they invented the word 'yum'.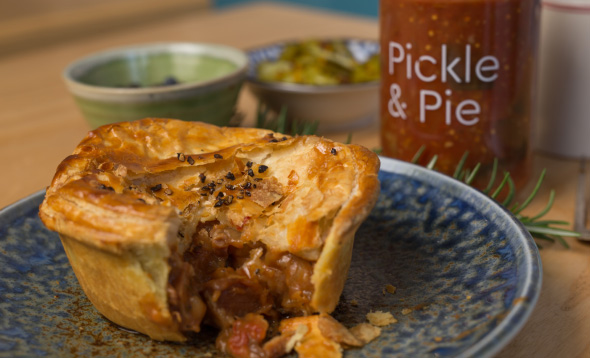 Harrington's Streaky Bacon, Venison and Juniper Pies
This amazing pie is delicious and rich. And it's a bit of change from the usual, thanks to the perfect combination of Venison and Streaky Bacon. But it's the Juniper berries that are the secret ingredient. They add another layer of flavour to this wonderful pie and take it to new levels of deliciousness. It could well become the next family favourite.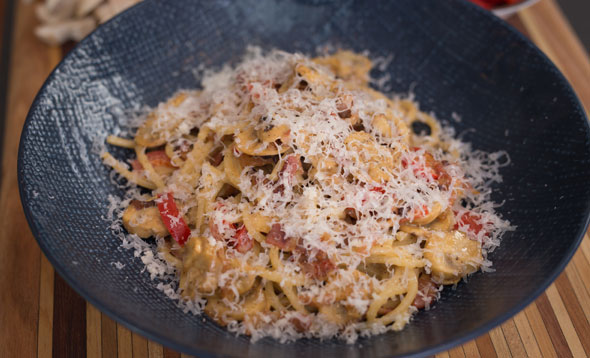 Carbonara with Harrington's Streaky Bacon, mushroom, capsicum and chilli
One theory is that this classic dish was invented after the liberation of Rome in 1944. Allied troops distributed military rations consisting of powdered egg and bacon, which locals used to season their pasta. Another possible clue is in the name 'alla carbonara' meaning 'coal-worker's style'. It was cooked and enjoyed by coal workers, or the abundant ground black pepper resembles coal. Ideal as a simple Sunday night dinner on the couch or a delightful dish to impress someone special. Harrington's Streaky Bacon has just the right taste and texture for a true carbonara.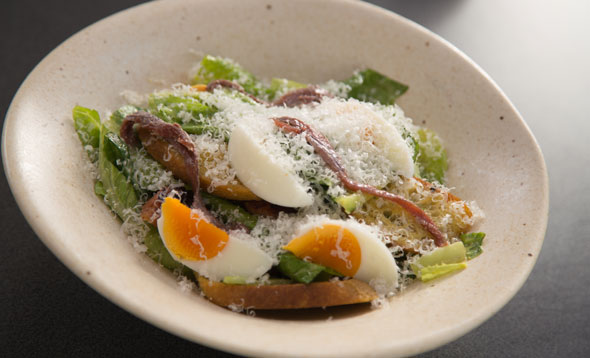 Caesar Salad with Harrington's Streaky Bacon
Hail Caesar Salad. It takes more than just a great dressing to make a great Caesar. Classically famous, it's been a fashionable favourite of Presidents, Royals, movie stars and proper A-Grade celebs, the sort you've actually heard of. Harrington's Streaky Bacon is an essential ingredient bringing a crisp, crunchy bite to a superior salad.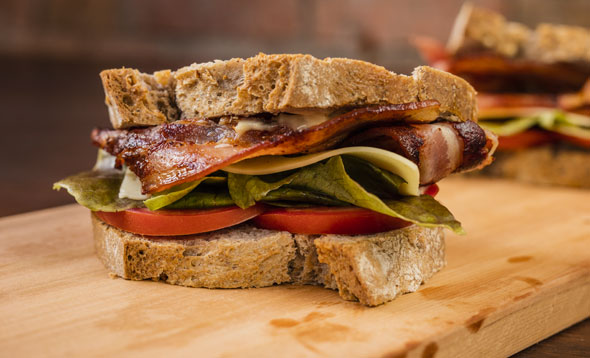 Harrington's Streaky Bacon BLT
The Bacon Lettuce and Tomato sandwich first appeared in the 1903 Good Housekeeping Everyday Cook Book. Some food historians say that there's evidence the famous sandwich graced tables as early as the 1700's. The bacon can be well-cooked or tender, it all depends on your preference. It 'carries' the other flavours, and is the hero of the sandwich. So always use top quality Harrington's Streaky Bacon, it's hand-crafted and 100% New Zealand.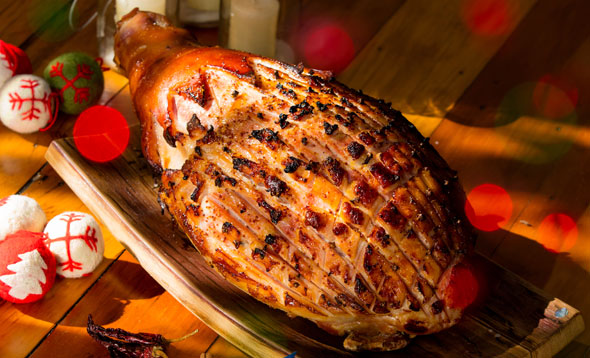 Harrington's Ham Glazed with Whisky, Marmalade and Mustard
Season's Eatings. Ham is one of those traditional dishes that everyone looks forward to. It seems that the Germans kicked off the great tradition of the festive ham, back in the dim and distant past, when they would serve it as a tribute to Freyr who, as we're sure everyone knows, was a pagan god connected with boars, harvest and fertility. These days ham is more connected with family, friends and a Kiwi Christmas, especially with this recipe that puts a delicious twist on the festive family favourite.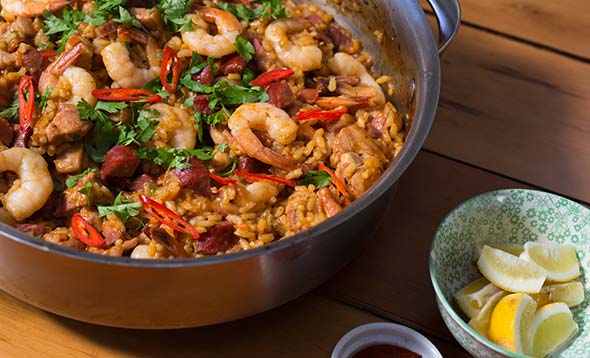 Paella with Harrington's Chorizo and Harrington's Streaky bacon
It's a little confusing but 'paella' or to be more exact 'la paella' is an old Valencian name for the cooking pan itself and not the dish. There are other theories, the most romantic of them is that the dish was first prepared by a lover for his fiancée and that the word is a corruption of 'para ella' meaning 'for her' in Spanish. It takes an authentic recipe to make a truly great paella. And top quality ingredients, like Harrington's fresh chorizo made to a traditional recipe, with its spicy tang of fresh chili and smoked paprika blended with the finest 100% New Zealand pork and beef. Now we're talking Spanish.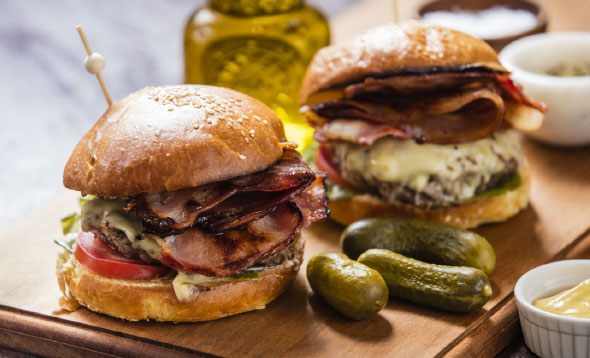 Beef and Bacon Burger, with Harrington's Streaky Bacon
There's evidence that ancient Romans were been making burgers back in the 4th Century. Others say it was a cook in a small Texas town that popped a Hamburg steak between two slices of bread. There are good burgers and there are great burgers. The secret is to use the best ingredients, like top quality premium mince and Harrington's Streaky Bacon which is delicious, has no added water so it won't shrink, and adds loads more flavour to your burger.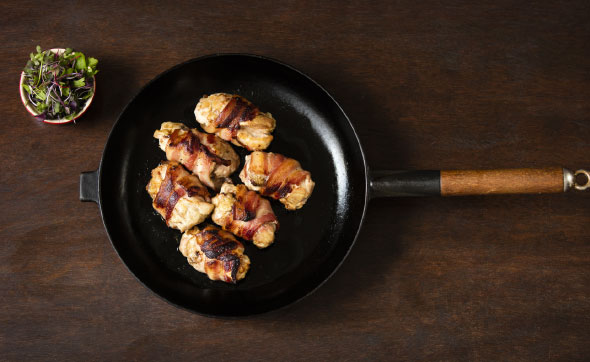 Marinated Chicken Thighs wrapped in Harrington's Streaky Bacon
The thigh's no longer the limit with this great twist on a classic favourite using Harrington's streaky bacon. Our bacon is the only one to use because it has a unique lovely crisp, smoky taste that complements the marinated chicken perfectly. It's an easy recipe, and so delicious, so don't be chicken, have a go.