Meet The Team –
Pete Doile, Chief Sausage Seller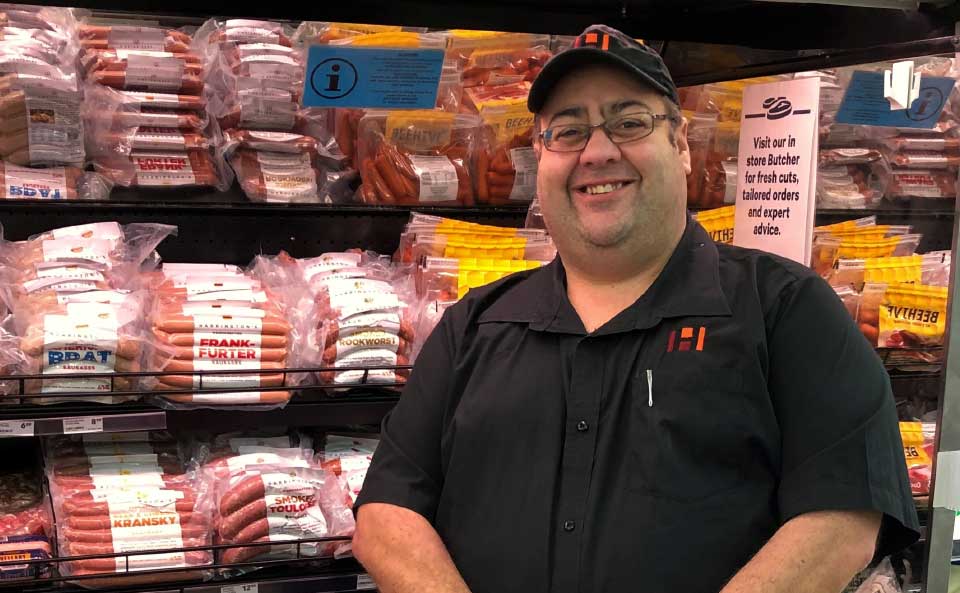 Pete Doile joined the Harrington's Smallgoods Sales Team in 2015 after 25 years as a Butcher.
With a love for free-range food, and equally passionate about quality products and craftsmanship, Peter combined his love of meeting new people and butchery to begin a successful career in sales.
"Working for Harrington's appealed to me. It was a new challenge which allowed me to apply all of my industry knowledge – gained after 25 years as a butcher and working as a New World Butchery Manager."
Peter says the best parts of his job are; meeting new people, working with supermarkets who are open to trying new things – and the constant creating (and innovation) in the Harrington's kitchen.
Craftsmanship and Expertise
Peter says he's excited to bring his expertise to Harrington's and to be able to use it every day.
"My earliest sales memory is while butchering – setting up a meat cabinet and returning the next day to do it all again as what I had cut and created had sold. I always get satisfaction from applying a skill I have learnt, particularly when this pays off and customers love it and buy it."
Mark Dimond, Kilbirne Pak'n Save Butchery Manager, says since Pete started with Harrington's and began working with them, they've been able to grow the demand for locally produced free-range smallgoods and hams to a level neither of them expected.
"The industry knowledge and passion that is demonstrated from Peter and the team, is what ultimately wins us over as customers along with the consistent quality of the product," says Mark Dimond.
Free-range, great staff and a commitment to quality
Peter believes Harrington's strength is the combination of quality products and great staff.
"The staff at Harringtons make the items I'm selling and having worked alongside most of them I know that they are also big fans and take pride in what they produce – which gives me massive confidence in the company."
Peter says it's important for the butchers he works with to know Harrington's meat is high-quality and locally sourced.
"Our single-source New Zealand pork isn't fatty, our bacon doesn't shrink, the ham isn't salty, and best of all our products taste amazing," says Pete.
If you've been wanting to try Harrington's sausages or bacon, and haven't seen them on the shelf yet at your local supermarket, Pete has a tip for you – ask your local butchery manager and they'll be able to order it quickly and easily, for the next time you shop.
About Harrington's Smallgoods
Based in Miramar Wellington, Harrington's has a proud 25-year history producing premium, award-winning New Zealand smallgoods.
Selecting only the best ingredients like premium New Zealand pork and beef, working from traditional recipes, and using plenty of artisan know-how to create superb sausages, beautiful bacon and sensational specialties, Harrington's is 100% New Zealand owned and crafted.
Led by former chef Angus Black, Harrington's has an unwavering commitment to quality – believing top quality meat gives top quality produce, Harrington's want to help Kiwis become more conscious about the food they consume.