Meet the Team –
Jarred Luty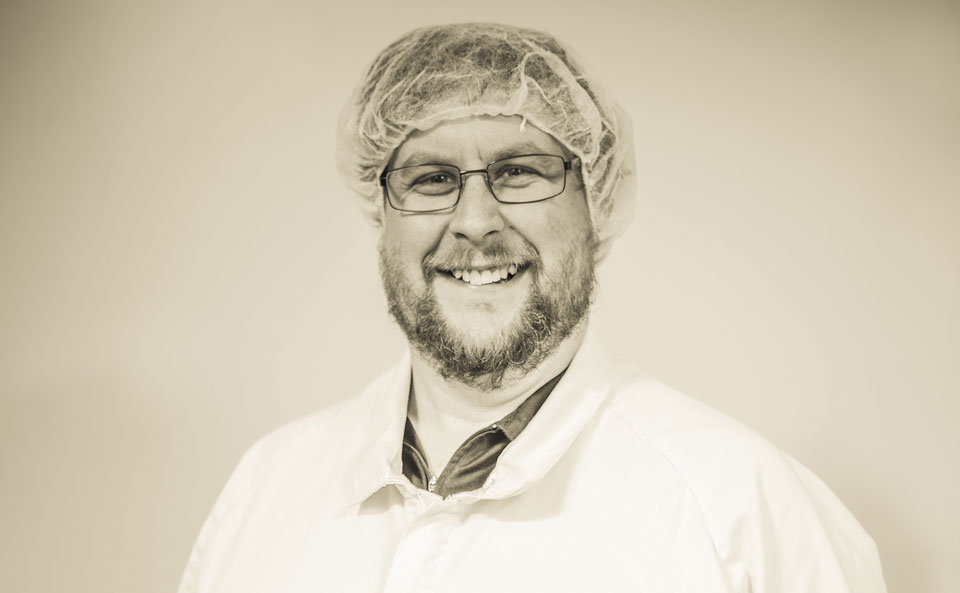 From helping make award-winning NZ films to award-winning Kiwi sausages.
What does Lord of the Rings and Harrington's Smallgoods have in common? Jarred Luty.
Jarred is the glue in the Harrington's team – lending a hand to everything at our factory including packing, organising and dispatching orders while keeping everything ticking over. He joined us 13 years ago, leaving behind a career in film, where he worked on the Lord of The Rings Movies as part of Peter Jackson's Film Unit in Avalon, Lower Hutt.
Before helping make our hand-crafted, artisan bacon and sausages, he even got to walk the red carpet for the world premiere of The Lord of the Rings – The Fellowship of the Ring, held in Wellington in 2001.
No Two Days Are the Same
Jarred says he was looking for a new challenge when he joined Harrington's Smallgoods and enjoys the variety in his role as Production and Financial Administration Manager.
"I've learnt a lot on the job – every day is different. I work with a nice bunch of people, everyone gets on well, and we have a lot of laughs." Jarred says he enjoys being part of the company's evolution, particularly with advances in technology machinery, which enabled Harrington's to produce its new sustainable packaging launched in 2019.
Angus Black, the General Manager of Harrington's Smallgoods, says Jarred has in-depth knowledge of the business and how to keep it running smoothly.
"Jarred has a fun sense of humour and is a great team man – happy to do what is needed to keep the machine rolling as smoothly as possible," says Angus Black.
Breakfast Sausages All Day
Harrington's makes many delicious sausages, but for Jarred, his favourite is our breakfast sausages, made from 100% free-range pork – and he likes them even better when they come straight from the smoker.
"I love the breakfast sausages either cooked at home on the frying pan – or just out of the smoker at work. They are also great grilled or baked – I love them no matter how they're cooked!".
Covid-19 Challenges and Opportunities
As an essential food service supplying supermarkets, Harrington's worked through the lockdown. Each day, Jarred was in the factory, ensuring orders reached supermarkets.
"It was a busy time. We had to adjust our production and packaging lines, to meet the new Covid-19 protocols – but as a team, we came together and adjusted to aspects like social distancing."
Harrington's is a major supplier of ham, salami, chorizo, pepperoni and beef to HELL pizza and Jarred's pleased HELL's doors are open again.
"We've recently provided HELL with the premium beef brisket pastrami for their new, limited-time Reuben Pizza, which I hear is popular.  We kept the beef in the freezer especially for them, ready and waiting to go for Level 2," says Jarred.
For now, Jarred's enjoying the gradual return to normality, spending time with his young family and indulging in our breakfast sausages.
If you would like to try Jarred's favourite breakfast pork sausage, you can read more here
About Harrington's Smallgoods
Based in Miramar Wellington, Harrington's has a proud 25-year history producing premium, award-winning New Zealand smallgoods.
Selecting only the best ingredients like premium New Zealand pork and beef, working from traditional recipes, and using plenty of artisan know-how to create superb sausages, beautiful bacon and sensational specialties, Harrington's is 100% New Zealand owned and crafted.
Led by former chef Angus Black, Harrington's has an unwavering commitment to quality - believing top quality meat gives top quality produce, Harrington's want to help Kiwis become more conscious about the food they consume.